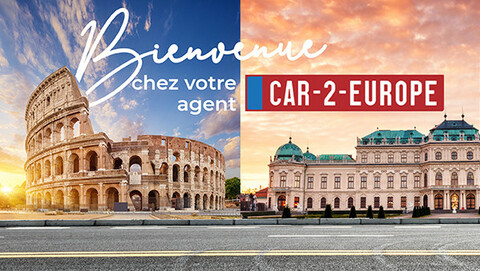 Welcome to Car-2-Europe China
We offer you a real alternative to car rental!
BETTER THAN A RENTAL, THE PLEASURE OF A NEW PEUGEOT FOR YOUR STAYS IN FRANCE & EUROPE
Peugeot Open Europe becomes CAR2EUROPE (the official offer of the manufacturer Peugeot France).
CAR2EUROPE offers a new vehicle rental formula,
dedicated to expatriates,
to all non-European residents (including Chinese national residents or others)
and with an all inclusive and economical package,
for their stays in France and Europe!
POE CHINA / CAR2EUROPE has been at your service for 25 years in Asia.
Thousands of customers have already trusted us and are continuing the experience from China and other countries in the world.
YOUR ALL-INCLUSIVE EXPERIENCE
• New vehicle 0 km from the factory: you are the 1st
• Competitive rates & PROMOTIONS
• Contracts from 14 to 175 days in FRANCE and EUROPE
• Unlimited mileage throughout Europe
• Vehicle delivered with 10 or 15 L of fuel and return without refueling
YOUR personalized PREMIUM SERVICE
• Personalized service from quotation to handing over the keys
• Dates modifiable up to 45 DAYS before delivery
• Free second driver wife and husband
• Delivery and return to 21 centers in France and Europe (mainly airports).
• The places of delivery and return may be different (FREE service in France)
• Courtesy shuttle on arrival and departure (depending on the airport)
YOUR PEACE OF MIND on vacation
• Multi-risk insurance WITHOUT DEDUCTIBLE
• No security deposit or vehicle inspection upon return
• Quote = final price = no additional, hidden or file costs
• Free 24 hour assistance in Europe
REDEMPTION: THE GOOD PLAN up to 25% discount
• REDEMPTION possible after 30 days of rental for the contract holder, his family, his friends, etc.
• VERY ADVANTAGEOUS RATES 20 to 25% discount on the new vehicle rate
• PEUGEOT warranty
• Vehicle immediately available; you were the only driver
• PEUGEOT supports you in the regulatory procedures